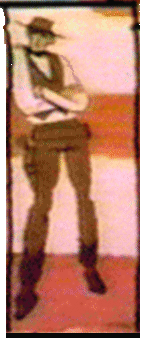 The day dawned cool and cloudy, perfect for those of us who got together for "They Went Thataway!" on April 25, at Roaring Camp and Big Trees Railroad.

We gathered around noon, got our meal and train tickets and gathered around the barbecue for our chuckwagon lunch of chicken, ribs and beans, followed by the ever-traditional marshmallow roast.

Just to make sure everyone stayed in the spirit of things, Karen Tully and Kevin Roche (the organizers of the event) presented each new arrival with a trinket they felt was in keeping with the demeanor and costume they presented. Some received deputy sheriff's badges, some received siren whistles to call for a hero's aid, some received grow-your-own-dinosaur kits (in honor of that very odd little dinosaurs-and-cowboys flick Valley of the Gwangi ). There were train whistles and mysterious flying-disk-of-death weapons.

Purely on their own twisted behalf, Karen and Kevin presented plastic harmonicas to their two favorite heroes (James Langdell, who arrived with his bugle to herald the calvary's approach, and Suzanne Ramsey as a pretty-as-a-movin'-picture singing cowgirl in red and black spangles), and percussion-cap bombs to their favorite villains (Jay Hartlove, who came ashore in his dashing Captain Nemo uniform, and another so despicable that they dare not mention his name...). After our lunch, we took a ride through the redwoods on a train pulled by Engine 7, then returned to the depot, where we indulged in ice cream cones and more toasted marshmallows, one group engaged in cutthroat poker (for Jelly Belly's) while another played croquet on the green.

As the final train returned to the depot, a group of desperados (some of them laying aside their deputies badges!) decided to stage a train robbery. They met the train at the platform with guns a-blazing (Roaring Camp having graciously allowed them to load their cap pistols). Brakeman Gary spun and died heroically. The train came to a halt, and the passengers hastened to debark. Witnesses swear to the following exchange amongst the villains:

Villain #1: Dangit! We forgot to ask for their wallets!

Villain #2: I told you we needed a plan!

All in all, a fitting end to a perfectly silly day.
---
Some photos, courtesy of Andy Pischalnikoff's digital camera (thank you, Andy!)
click on the thumbnail to see the full-size image

| | |
| --- | --- |
| Waiting for the train | |
| Here she comes! | |
| All Aboard! | |
| Riding back in Time | |
| Sitting pretty | |
| Andy P, robber baron | |
| Judy P., woman of means | |
| Our hero, Jim West | |
| Our villain, Captain Nemo | |